How I Blew Up My Microsoft Hyper-V Lab
Falling Skies
When powering on virtual machines in my Hyper-V lab, all of them gave Error 3278 failed to change state of the VM. They were working yesterday. All my drives working? What did I do? What changed? Yeah, 9 times out of 10 it's the later.
What did I do?
I remembered working on vSwitches and seeing if I could figure out internal vSwitch and maybe NATing in Hyper-V. Deleting, adding, re-configuring, could that be it?
VM

Settings

Looking at the settings of a VM, the first thing I noticed was, that I forgot to unmount the iso, but that's a possible OCD issue and a whole other conversation.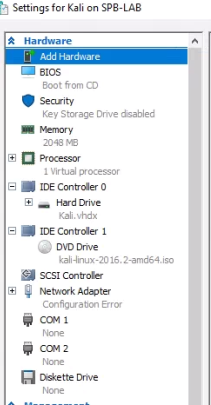 The second thing I noticed, however was the Network Adapter showing Configuration Error.

Network Adapter
Clicking down on the drop down list you see the choices for Not connected, Configuration Error, as well are the one remaining vSwitch.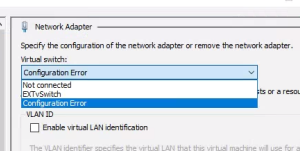 The Fix
What I had done in this instance, was to delete the vSwitch the virtual machines were all assigned.
Changing it to the remaining vSwitch was all they needed. After that change they all powered on with no other errors.
This was a quick post, though a valuable lesson, either for the home lab or a production environment. "If it was working before…What changed?"
At least I learned something and I hope you enjoy in my misadventures.