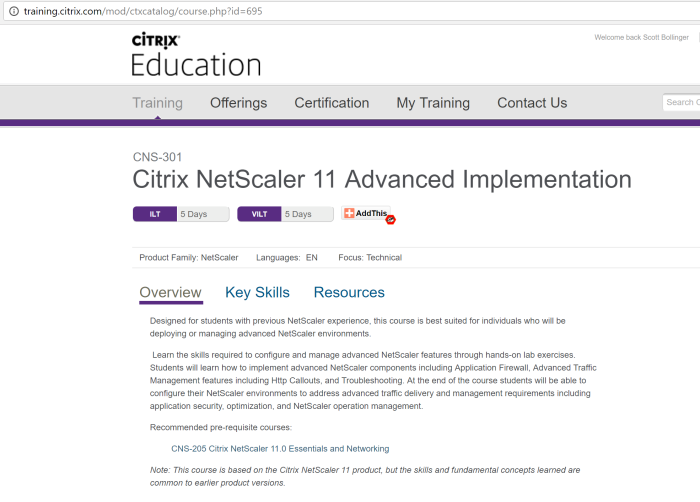 Journey and a New Friend
The next leg of my NetScaler journey began the first week of January. I attended in NetScaler Advanced Implementation in class training at the Unitek training facility in Fremont, CA. Not to leave you in suspense, it was 5 days, 13 modules of NetScaler fun!
Class Overview
Netscaler Advanced Implementation

5 days class room (Also available remotely)

13 modules
The Key Skills or objectives
Identify common web attacks and vulnerabilities

Write PERL compatible regular expressions

Configure Citrix Application Firewall to protect web applications

Troubleshoot Citrix Application Firewall

Install and configure NetScaler Insight Center to monitor performance

Install, configure, and use Citrix Command Center to manage NetScaler devices

Configure and use additional advanced features of NetScaler including NetScaler Web Logging, HTTP callout, and AAA authentication for web applications
Material and Lab
All the modules and exercises were well thought out and presented in good order. My favorites were the App Firewall, callout's, and troubleshooting modules.
The hands on labs were presented via Citrix receiver to a nested Xen Server environment with multiple VM's. Live virtual machines and NetScaller VPXs are an excellent way to reinforce the lecture material and exercises.
The labs were written well enough but gave you enough room to explore, troubleshoot, and make mistakes. In my opinion, this type of lab environment is much more valuable than a simulated environment. This was not a click, click, next, environment.
I'm sure it's more work for the instructor to keep everyone up to task and assist in troubleshooting mistakes, but ours did a wonderful job.
Instructor
The instructor for the class was Yousuf Sharrif @Yousufsharrif he was knowledgeable, and presented the material in a clear, concise manner. He took time with students and suggested additional tasks for the labs, if you finished early to get you to explore or understand a topic better. I would take another class with Yousuf as the instructor.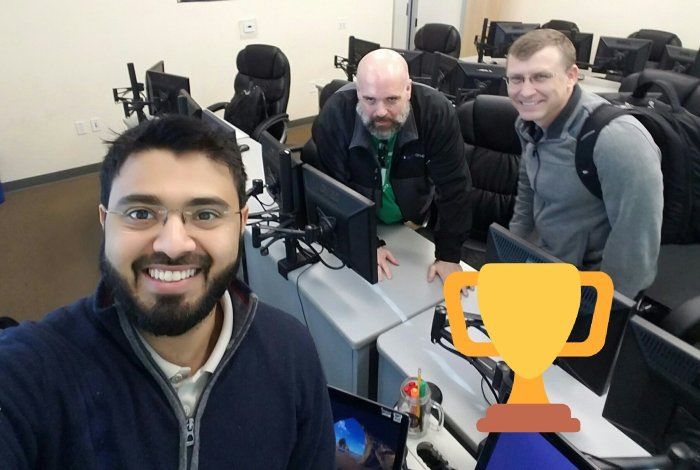 Facility
The training facility was Unitek in Fremont, CA. It was an easy 30 minute ride from the San Jose Airport. It had a lot of hotel and restaurant choices around the 1-5 mile radius from the training facility, including a Fry's Electronics for those quick emergency runs ;) Lunch was catered in from a different restaurant every day so you didn't need to leave.
Now for a few negatives, nothing huge, nothing you don't see in any computer lab or training room. You probably know what I'm going to say. A room full of PC's and having to figure out which few don't really work.
That's easy enough to navigate with some trial and error. Usually out of a room equiped with 20-25 you only have a handful of students, so space or lack of equipment is really a non issue.
No, the bigger Sin for me was the state of patching or lack there of. Yes, I was assured they re-image the PC's between training and this was only a class environment.
However to access the lab material, PDF's, and download the Receiver link, Yep, you had to log in to your Citrix account. I'm not talking one or two months of patches.
I'm talking 2015 were the last updates applied. I ended up using my laptop to access the lab environment and using only the two monitors and desktop to display the class and exercise PDF's. This also meant I was set up to play in the lab from the hotel with no additional setup.
Summary
In summary, it was a great class and I learned a lot. Both my teammate and I came away with a list of stuff we wanted to change or implement. As well as some features I had no idea were available. Now I just need to find the use cases for them!