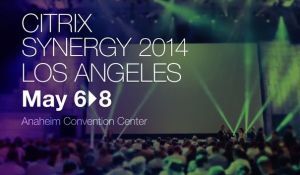 Alumni
I'm attending Citrix Synergy again this year. It's my second time attending this conference. I found it very educational last year, the sessions as well as time spent with vendors. I'm sure the next few days will be filled with sessions, vendor meetings, and trying to figure out, this years, product name changes. Below you will find a few of my thoughts and conference advice.
In the last couple of decades, I've attended many conferences and conventions and found the way I consume them has evolved. Early in my career, Novell's Brainshare and Comdex held my twenty something attention in quite a different way. Seemingly the golden age of convention excess, the 90's for me seemed like a cross between Studio 54 and an awkward school dance. I still enjoy the entertainment and networking with my community peers.
Most conferences have vendor booths. My advice is to make the most of your vendor time, bypass the booth babe entertainment (unless they are serving tacos or food on a stick) and talk directly to the engineers. They are usually knowledgeable men and women, so ask a ton of educated questions. If you ask specifics you can usually get past the marketing material and figure out if it's worth a look for your environment.
Bonus points if you're already a customer - revalidate your design and deployment. Is it still best practice? Remember technology changes.
Almost every conference gives you a backpack or messenger bag. So unless you absolutely need to carry your laptop or you are hoarding sodas and snacks, my advice is to leave it in your hotel room. For the event floor, unless you are going on a swag-fari and value your time in the vendor area on how many dozen medium t-shirts, leaky pens, and desk toys you collect, then again, my advice is to leave it in your hotel room.
I gave up carrying a backpack a few conferences ago. My experience has been much more relaxed and enjoyable. Not to mention better for my back.
I do recommend carrying your smartphone, and it's AC adapter/cable or portable battery. You will need to recharge. Looking at the event app, maps, schedule, constantly checking work email/voicemail, texting, taking notes, and updating your social network streams, you will drain your battery. I prefer a portable battery than finding a place on the wall by an outlet/charging station, or leaving my device with a charging valet. However you do meet some interesting people that way.
Don't forget to take you daily medication/vitamins and carry some headache relief. It takes time to go back and forth to the hotel. You only have three days, so make them count.
Take pictures of interesting things, people, and equipment. But do not be 'that' guy in the front row taking pictures with an oversized tablet of every single slide during every single session. The slide decks will be available online as well as the video of the sessions. The 7k pictures of slides you thought were interesting at the time and probably won't remember by day three is a waste.
Disagree? Fine just don't stand in front of me to take your pictures.
You will be bombarded by endless food, snacks, soda, caffeine, and sugar. Take care of yourself.
My best advice is to stay well hydrated. Drink plenty of water and above all have fun. Remember the contacts and friends you make at these conferences, are people you can share with and learn from the rest of the year.