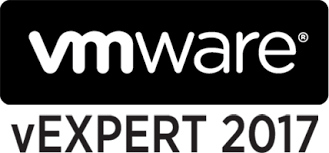 Thank you
I'm honored and excited being a first time vExpert. (1) Thank you to Corey Romero, and the VMware Social Media & Community Team.
The vExpert
For those of you that aren't familiar, "the VMware vExpert program is VMware's global evangelist and advocacy program. The program is designed to put VMware's marketing resources towards your advocacy efforts. Promotion of your articles, exposure at our global events, co-op advertising, traffic analysis, and early access to beta programs and VMware's roadmap. The awards are for individuals, not companies, and last for one year. Employees of both customers and partners can receive the awards. In the application, we consider various community activities from the previous year in determining who gets awards." (2)
Like Anthony's blog post, I too, believe there a responsibility that comes with the award.
For me, the added availability to resources, enables me to spend hands-on with products that wouldn't have, in my daily production life.
Additionally the training resources gifted by @Pluralsight, which I'll be posting about next, is out of this world!
I look forward to increased lab time and posts about the whole range of VMware products.
References:
https://blogs.vmware.com/vmtn/2017/02/vexpert-2017-award-announcement.html https://communities.vmware.com/community/vmtn/vexpert