Savings
Register for a Full Conference pass by November 4 and save $1,000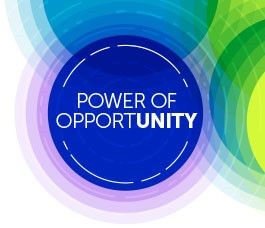 Last February, I attended the RSA Conference and BSides San Francisco and it was quite a first time experience for both.
RSA

was

HUGE

I've been to industry conferences over the years. Conferences like VMworld and Synergy, but RSA was freaking huge. It was their 25th anniversary and they had a record number of more than 40,000 attendees.

By the way the conference was packed. Not stand in lines forever Def Con packed, but a massive amount of people. I'm glad to hear that for 2017 they are expanding to not only include the Moscone Center but the Marriott Marquis too.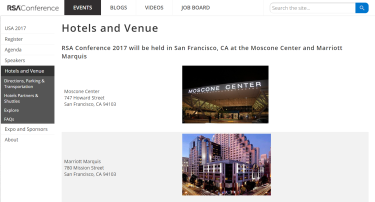 Early Security Researcher gets the W0rm
A received an email earlier in the week from RSA and among other things it described a 1000 dollar saving for early registration.
1000 dollar savings to either your pocket or budget!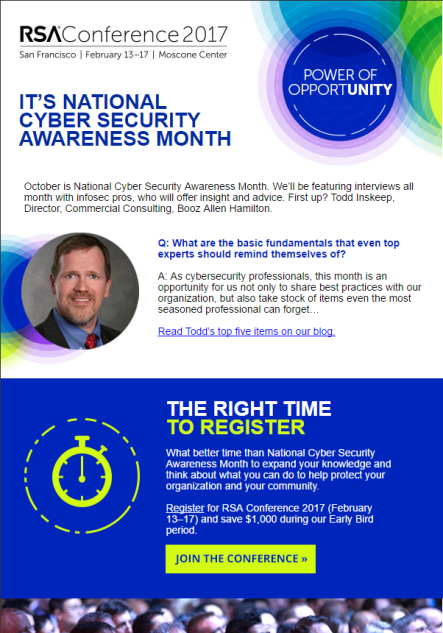 Website: https://www.rsaconference.com/events/us17
Where: San Francisco, CA
When: February 13 to 17, 2017
Register for a Full Conference pass by November 4 and save $1,000.
Look Who's Talking
Some great speakers lined up. A sample of MY favorites:
Leigh Honeywell (@hypatiadotca)
George Kurtz (@George_Kurtz)
Jennifer Minella (@jjx) Wendy Nather (@RCISCwendy)
Bruce Schneier (@schneierblog)
Mark Russinovich (@markrussinovich)
and of ton of others see link for published list https://www.rsaconference.com/events/us17/speakers.
And how neat is this > Dr. Neil deGrasse Tyson (@neiltyson)

Don't Forget BSidesSF Too!
Make sure if you're going to be in town for RSA then make sure to come two days prior to attend @BSidesSF.
So see you there, enjoy the links/info, and I hope you can take advantage of the savings.
I leave you with the below YouTube playlist for last years BSides SF and registration information.
I thought it was well worth my time and got to meet some great infosec people!
BSidesSF Information
Website: https://bsidessf.com/
Where: San Francisco, CA, DNA Lounge and BuzzWorks
When: February 12-13, 2017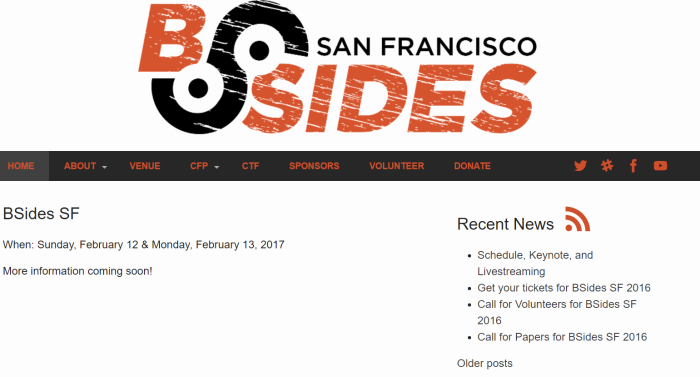 BSidesSF 2016 Session Videos https://www.youtube.com/playlist?list=PLbZzXF2qC3RuSwuyJLQ6Hrx1ps9No6Lso