I am ecstatic. Thank you VMware!
VMware has decided to open up the VMworld Session videos to everyone. Previously, only attendees or those that purchased subscriptions were able to view the current years videos.
This year, access is available to all that sign up and offer up the sacrificial email address. As of this writing they have 544 sessions uploaded from 2016. That's a lot of current up to date information from the firehose.
The VMworld Breakout Sessions are available to view online. That's right the same sessions that were just recorded at VMworld 2016 in Las Vegas and they can be accessed online and viewed by EVERYONE.
Not just VMworld attendees, everyone after giving a normal sacrifice of personal information, can gain access to the last SIX years of VMworld sessions.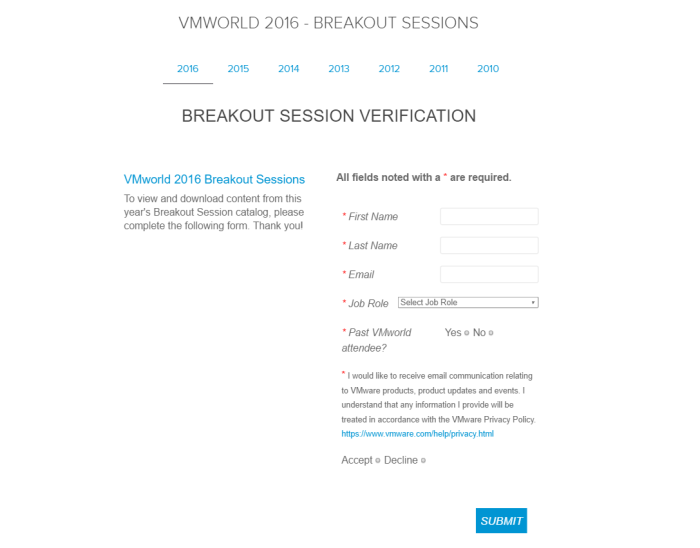 I am fortunate and work for an employer that values attending training and conferences. The training and networking opportunities at events such as VMworld really needs to be experienced to be believed. If the networking is the gravy then the meat of the conference is the keynote announcements, pan els, and breakout session presentations.
So good news this year, thanks to VMware.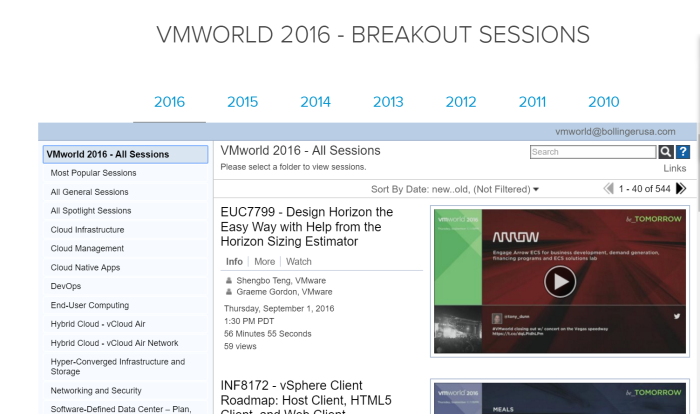 Those not able enough to justify the expense of attending or maybe virtualization is not your main focus, now have the opportunity to view and study, up to date training and presentations.
As someone that has attended VMworld, there are too many sessions to see everything while at the conference. There is just not enough time in the day.
Time to look up those sessions that were missed, full, or looked interesting. Also time to review the sessions I attended and see what I missed or may not have heard while I grabbed a brownie, a soda, or had to pee. Yeah I said it, two hours in the morning for getting seating and keynote is a little long. #JustSayin' #BeingReal
Also I hope VMware will consider in the future to make the videos available on their YouTube channel instead of having to use their website's player. Some videos just need to be speed up. This also opens up the videos to those that may need the automated closed captioning. Just think about it VMware.
So loose yourself, feed your brain, and pause when you need to.