Let's get vSphere!
But where to start? You want to deploy VMware vSphere as your virtualization platform but…
What edition?
What's an Addon?
Do I need a kit? What do all these features do?
Does the kit come with a screwdriver?
It all depends right? No, I'm not going to tell you that, because I know it doesn't really help.
You may ask your Sales contact what you need and they'll gladly help you rolling out Enterprise Plus with vRealize Operations Manager and NSX for your six computer doctors office. Is that what you need though? You know your environment the best.
Size Matters, oh and the features
How big does your environment need to be? Is it one site or a several data centers in multiple countries? What features do you need?
As you look through the features, understand that some features require a minimum edition. Editions are really only groupings of features and the Kits are bundles of Products and features to get you up and running as quickly as possible.
This post will outline the options and in individual posts I'll go into what each feature does and how it could benefit your environment.
Editions, Features, Add-Ons, and Kits. Oh My!
Per VMware, there are three editions of vSphere. VMware doesn't call the two kits for smaller deployments, Editions, I don't know why.
Officially, the three editions are vSphere Standard Edition, vSphere Enterprise Edition, vSphere Enterprise Plus Edition. [1 pg 5]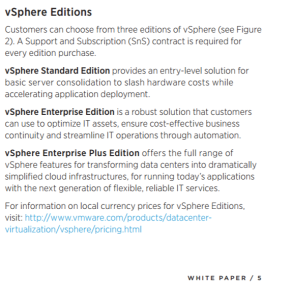 The editions, are bundles of individual features. See the matrix below.
On top of the editions, there are Add-Ons which are bundles of Products.
"VMware vSphere with Operations Management 6 combines two components (vSphere and VMware vRealize™ Operations™ Standard) into a single product with a single license." [1 pg 3]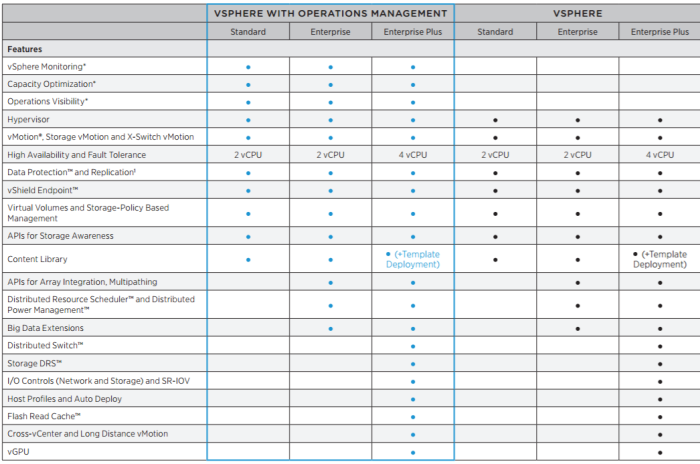 Next are the Kits
Kits are bundles of features and products grouped together to ease deploy and get things up and running as quickly as possible.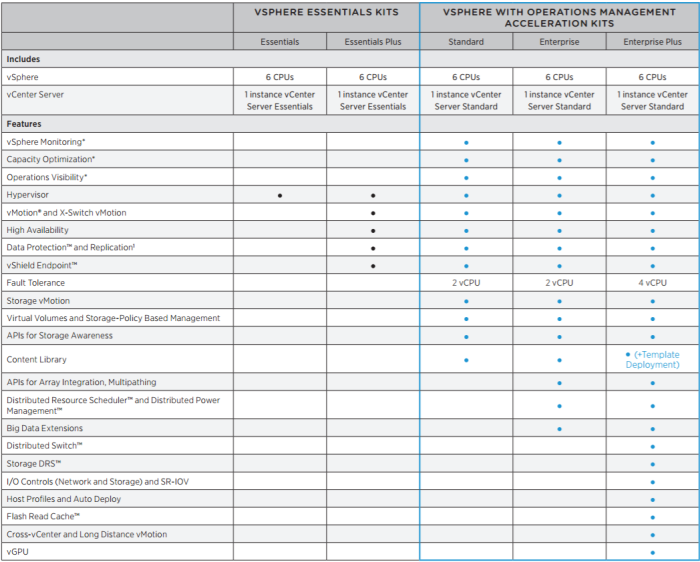 Look out for my feature description posts.
References: